Just a reminder that Picture Day at East Washington Middle School is tomorrow! You can order your child's school pictures online using the following website and Picture Day ID. mylifetouch.com Picture ID: EVTQFNG7D

Picture Day at East Washington Middle School will be September 12. You can order your child's school pictures online using the following website and Picture Day ID. mylifetouch.com Picture ID: EVTQFNG7D

We will host Welcome Night for all 5th graders and newly enrolled students on July 31st from 5:00-7:00. Students and their families should enter through the main doors of the middle school to pick up schedules, then head straight to the performing arts center. After a brief assembly, students will have the opportunity to practice their lockers and find their classrooms! Returning 6th, 7th, and 8th grade students can now access their schedules in Alma.

We will host our annual EWMS Spring Dance this Friday night, April 28 at Cornerstone Hall in Salem. The dance will start at 7:00 and end at 9:00, doors will open at 6:45. Students may purchase tickets this week before school in the library for $10. When dropping off and picking up your student(s), please follow the same protocol as you do in the car rider line at school. Adults should stay in their vehicles and following the traffic cones. We will get students in and out as quickly and safely as possible. Your patience is so appreciated!

Next Week (March 20-24), we will host spirit week at the middle school! 3/20: 'Merica Monday (wear read, white, and blue) 3/21: 2 The Extreme (wear purple and gold head to toe) 3/22: Western Wednesday (wear your country best) 3/23: Color Day (5th Grade- Red; 6th Grade- Green; 7th Grade- Blue; 8th Grade- Pink; Staff- Black) 3/24: Aloha Day (wear your vacation attire)

On Tuesday, March 14, at 6:30 p.m. in the EWMS cafeteria, we will host an informational meeting for 8th graders and their parents regarding high school preparation. High school teachers will have booths set up highlighting their courses and clubs from 6:00-6:30 prior to the meeting. This will be an important meeting regarding high school scheduling, diploma types, grad pathways, career pathways, and freshman course choices. This meeting will be hosted by our high school guidance counselors.

All middle school students are invited to Student Appreciation Night next Tuesday. It will be held during the 7th and 8th grade girls' basketball game. Please check out the details below! When: Jan. 17 Time: 6:00 (students may be dropped off early, or may stay after school) Location: Middle School Gym Admission: $2.00 (This includes admission, hot dog, chips, drink, and candy. Students may bring extra money for additional concessions.) Students should be picked up at approximately 8:15. All students must be picked up in the car rider line, located at the parking lot closest to the football field. Please be patient as we get all of the kids to the correct vehicles safely. Thank you!

Parent Teacher Conferences will be held at EWMS this Friday (10/21) from 8:00-3:00. Please contact the middle school office if you would like to schedule a conference. Students will not report to school this Friday, but will have an ELearning Day.

If you plan to attend the 7th and 8th grade boys basketball game at Salem tonight, you will need to purchase your tickets through the link below, or bring a debit or credit card to pay at the gate. They will not have a cash box at the game.
https://public.eventlink.com/tickets?t=7657&p=14949

Picture Day at EWMS will be October 22nd. If you haven't already ordered pictures, you can order them online. Just use the link and ID below! mylifetouch.com ID: EVTQ2DK3S

EWMS Picture Day will be September 16th. Your child will bring home a form as soon as we receive them from Lifetouch. If you'd rather order online, you can use the link and ID below! mylifetouch.com ID: EVTQ2DK3S

Reminder: 5th Grade Orientation will be held August 2nd from 6:00-7:30. Families will enter through the middle school and report directly to the Performing Arts Center. (Masks are recommended.)

Middle school parents and students should check out the following message from Mrs. King regarding the first few days of school:
https://youtu.be/z68WvohwtC0

EWSC: VIRTUAL STUDENT DEVICE RETURN Device return for ALL virtual students, K-12, will be on Monday, May 24th from 9AM-11AM and 1PM-6PM at the high school front entrance. Please be sure to bring all devices, chargers, and hotspots (if applicable).

The EHS Guidance Department would like to invite current 8th grade students and parents (1 student and 2 parents maximum) to "Freshmen Orientation" on Wednesday, March 31st at 6:00 p.m. in the EHS Auditorium (please enter through the "Game and Events Entrance"). Some of the main topics covered will be scheduling freshman classes, diploma requirements, and graduation pathways. For additional information, please contact David Aly at 967-3931, or via e-mail at
daly@ewsc.k12.in.us
.

All EWMS students will take the NWEA Winter Assessment starting tomorrow. This test is crucial because it allows teachers to see the growth and progress students have made this school year to better meet their needs in the classroom. Physical students will test at school with their teachers. ALL VIRTUAL STUDENTS SHOULD CHECK THEIR GOOGLE CLASSROOMS TO SEE WHEN THEY NEED TO TEST. Thank you!

In lieu of today's announcement, we want to clarify that middle school athletic and extracurriculur practices and events will continue per the guidance of the Washington County Health Department. This is subject to change if we receive further guidance from the health department. 5th and 6th grade boys basketball tryouts will be held tonight from 5:00-6:30 in the middle school gym, and the 7th and 8th grade games scheduled at Austin and North Harrison for tonight will be played. Middle school students who participate in theater should check their Google Classroom for practice times and schedules. Only family members living in the same household as our athletes will be able to attend HOME games. We will let you know if any of this changes.

Reminder of Last Week's Announcement: EWMS will start on a hybrid model TODAY! 6th and 8th grade students will report to school on Mondays and Wednesdays, and 5th and 7th grade students will report to school on Tuesdays and Thursdays. Any day that a student doesn't report to school will be a virtual day.

Thank you to the Washington County Chamber of Commerce, Salem Walmart, and the American Legion Post #41 for their tremendous donation of 37 turkeys and 37 food baskets! EWMS appreciates your help in providing for our families this Thanksgiving!!! Your generosity is such a blessing ❤️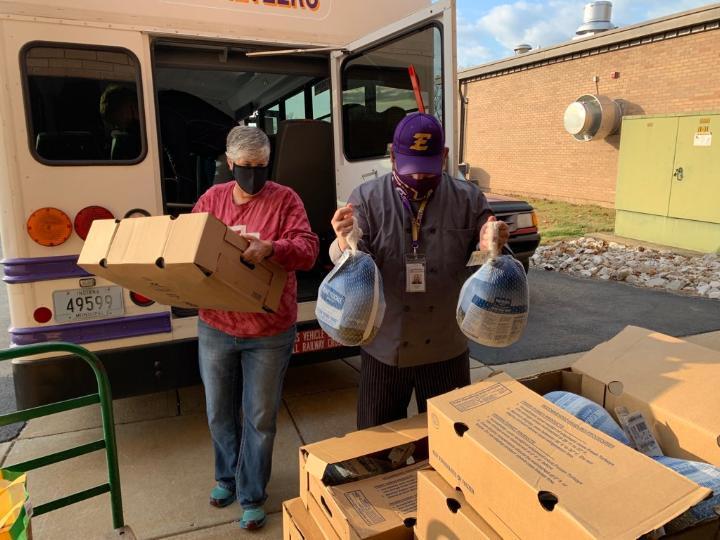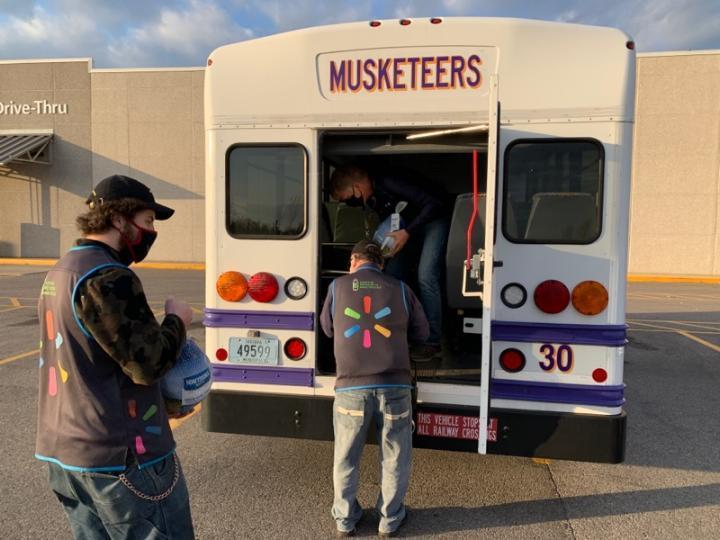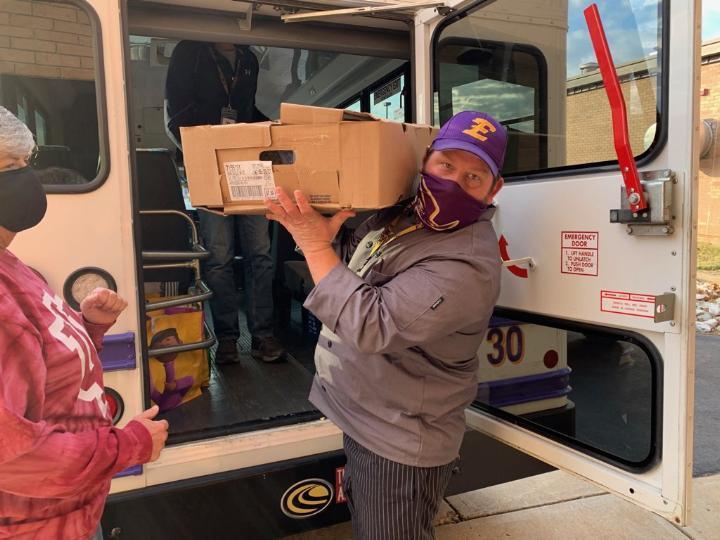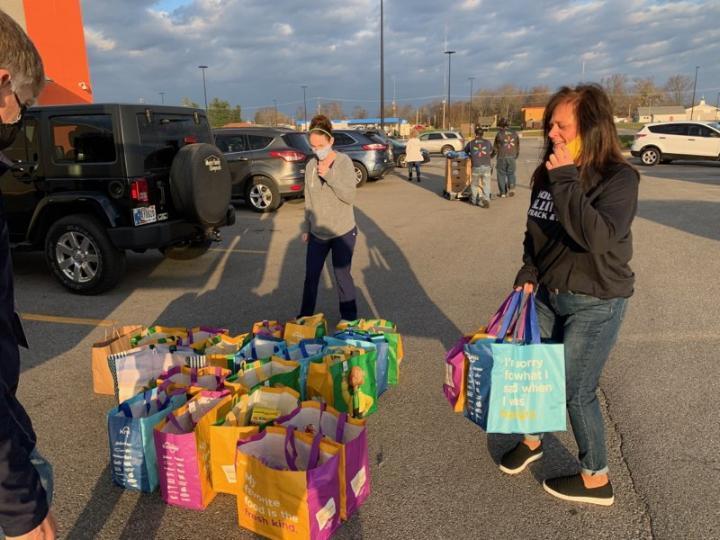 In honor of Veteran's Day, EWMS would like to encourage all staff and students to wear red, white, and blue tomorrow!